Why Buy American Made Portable X-Ray Systems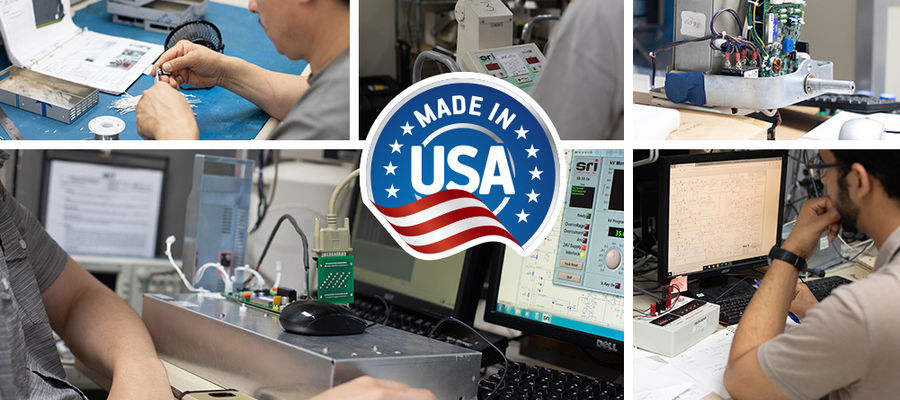 Are you looking for a portable x-ray system? Consider buying American made. We'll be discussing the benefits of American made portable x-ray systems.
---
Many of us have heard for years the terms "Made in America" or "Made in the USA" and maybe it makes us feel safer, more patriotic or just plain better. The terms are used for a variety of products throughout a wide range of industries but do we really know how something "Made in America" affects the actual product?
Perhaps if we're talking about something as simple as a pen, pencil, tape, or garden hose, etc. then yes, we still feel a sense of pride to know it's made in America. However, when we're talking about products with a more significant impact on our lives and health then the term takes on a whole new level of importance.
Some of those products are analog and digital portable x-ray systems and x-ray source assemblies. There has been much misinformation of late so we want to take a few minutes and make sure we're all informed about this extremely important industry of medical imaging and how this topic affects it.
As with many products made today, the majority of portable x-ray machines and components (cart, stands, x-ray generators and x-ray controls) are made overseas even though the companies that sell and market them, may insinuate that they are "Made in the USA".
This is not only a disingenuous practice but a dangerous one as many foreign countries where these products are made do not have the same level of health and safety requirements for employees and operators as we do in the USA. This may contribute to unsafe conditions for thousands of workers and compromise the delicate process and intense concentration required for x-ray manufacturing.
A few American companies import portable x-ray systems from Japan, South Korea, Spain and India.
These companies may proudly market their portable x-ray systems as "Made in America" when in fact, maybe only the cart or other non-certified components were made in America. All the other components (you know, the real x-ray components that matter) are made in other countries.
Why do they do this?
Well we can't speak for them but we can say that they must know the symbol of quality, manufacturing and regulatory standards that the Made in America symbol provides. They just aren't willing to actually do what they say they do. This raises some important questions:
How do I know if a manufacturer is meeting these requirements?
Is the company a registered FDA establishment?
Click here to be sure
Is their product registered with the FDA?
Click here to be sure
There may be an ongoing effort to confuse the average consumer of portable x-ray and digital x-ray systems. However, there is one company whose products are completely designed, manufactured and serviced in the USA, and has been since its founding, that company is Source-Ray in Ronkonkoma, NY.
Source-Ray is proud to display "Made in America" on all of our products and know that it's the truth.
Manufacturing in the USA carries with it enormous benefits such as protecting our customers against potential foreign political issues, tense diplomatic relationships or a trade war that would normally affect the manufacturing or delivery of our products.
Also, even though prices may be slightly higher for "Made in the USA" products, we find the actual total cost of ownership is often lower as products made here have a quality that will last far longer and be more durable than a foreign made alternative. Yet another aspect to consider is that often foreign made systems are not repairable locally which results in increased down-time and cost.
Of course we all know that "Made in the USA" products provide American jobs today and for future generations. Product development and manufacturing jobs as well as sub-contractor jobs are a true investment in our future. Also, goods Made in America carry a lower carbon footprint since goods made overseas have to be shipped all the way across the ocean to reach America burning fossil fuel and spewing out greenhouse gases with every mile they travel.
In a recent survey, 80% of American shoppers say they prefer to buy goods "Made in the USA". More than 60% say they'd be willing to pay 10% more for an American made product.
Find out more about the American Made difference that a Source-Ray system can make.
Source-Ray
REIMAGINING
X-RAY
Your Trusted Partner in the Design & Manufacture of X-ray Generators and Medical Systems
Get in touch with our X-ray experts
We're here to help you with all your X-ray needs