Top Ways Urgent Care Centers Can Drive Patient Loyalty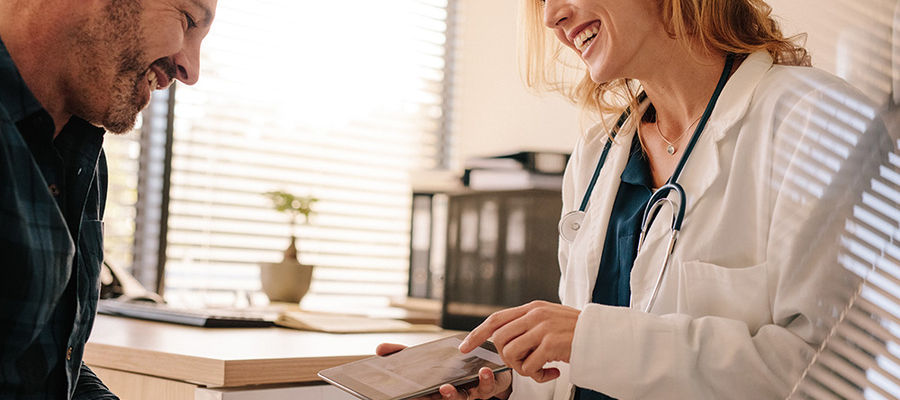 Urgent care centers are a rapidly growing industry and building patient loyalty is key to success. We'll be exploring the top ways urgent care centers can drive patient loyalty through effective communication, branding, feedback, and overall patient experience.
---
One of the most significant factors to a successful business is having a strong, long-term relationship with your patients. As urgent care centers continue to rise in popularity, it is vital to building your patients' trust and loyalty, especially in this increasingly competitive industry.
According to the Urgent Care Association of America, it is crucial for urgent care centers to invest in marketing, facilities, systems, and culture to create an excellent patient experience. Merely meeting your patient's expectations isn't going to be enough to make your patients believers. Good service may give them satisfaction, but giving patients an outstanding healthcare experience increases patient retention and earns their trust and loyalty. In return, loyal patients will want to guarantee the success of the provider or practice to which they feel loyal to - YOU. That includes promoting your services to their families and friends.
Word-of-mouth marketing has been one of the most effective ways to attract new patients. According to a survey from Nielsen in 2015, 83% of consumers trust word-of-mouth recommendations, which is notably higher than that associated with any other form of marketing. Also, according to thinkJar, 72% of consumers will share a positive experience with six or more people – which means, more free and effective advertising.
Here are key factors that help foster patient loyalty
Branding
Show what you and your center or practice is known for. With the level of competition in the Urgent Care industry, you need to separate your company from your competitors. Why would they choose you over others?
Patients often expect and select providers that deliver on their brand's promise. However, to earn their trust, you must create a significant impact on their lives. When you're sincere about providing greater health gains for your patients rather than just being a business that's being paid to deliver healthcare services, they'll most likely stick around and will stand by you.
Loyal patients usually to stick to their plans of care like communicating concerns or limitations and asking questions throughout treatment.
Communication
The foundation for building trust and creating rapport between you and your patients is communication. Cultivating any form of relationship requires an open kind of dialogue. Thus, the openness and honesty of your patients speak for their level of trust towards you.
Improving patient loyalty demands meaningful interactions with your patients. Maintaining an open-line communication with them, even after they walk out of your door, will give them an opportunity to ask questions. It makes much easier for you to immediately address their concerns that could otherwise lead to withdrawal. Fortunately, advances in technology have helped maintain on-going patient engagements, such as the following:
Sending appointment reminders
This helps prevent patients from missing or showing up late on their scheduled appointment. Thus, results in fewer no-shows.

Sending thank you messages
A quick "Thank you for coming in. We appreciate you!", to follow-up to see how your patients are doing or if they have questions, let's them know they're on your mind and that you care.

Put technology to work for you
Using an interactive, digitized home exercise program (HEP) platform that allows patients to communicate with you directly to ask queries or concerns.

Sending monthly patient newsletters
This helps keep your patients updated with industry news, especially if it is related to their health which is a way to show your concern for their well-being.

Collecting satisfaction and loyalty data between appointments
Determine your level of patient satisfaction, especially about each of their experience by using automated patient surveys. Considerately listen to their feedback and thank them for expressing their opinions, such as sending them a coupon or a small gift.

Use email marketing on a regular basis
Sending marketing campaigns through email to reactivate your previous patients.

Wishing your patients a happy birthday
This is a simple way to show you remembered them and also a great marketing strategy.
Moreover, Patient Relationship Management (PRM) software like WebPT Reach, can help you do the things mentioned above, by using one easy-to-use automated system.

Feedback
The need to be heard is universal. Patients appreciate that you are doing everything on your power to improve your services and your company as a whole and that you're open to listening to what they think. That is an effective way to gain greater trust and loyalty. Also, customer feedbacks not only help identify how your patients feel about your services but also serves as a platform wherein they can express their suggestions, ideas or concerns.
Remember to measure loyalty throughout the entire course of care and not just at discharge. Moreover, if you want a robust customer feedback forum, check for a customer feedback software.
Over-all Patient Experience
The top most important things to patients are close location, convenient hours, a clean and welcoming center, timely care, and excellent customer service. An Urgent Care Center that meets those items will become a hub for loyal patients – more return visits and referrals.
The immediate availability of quality care at Urgent Care Centers gives patients convenience, compared to the multi-hour wait times at emergency departments and multiple-day wait times to get a primary care appointment. According to the UCAOA, 90% of patients only wait for 30 minutes or less to see a provider, and 84% are finished with their visit in 60 minutes or less.
Your presence in social media puts your company on the map, especially for the younger generation. It has become an effective way to connect with and attract new patients. It is essential to use social media to let health consumers know what you are doing for them.
Join platforms like Facebook, Twitter or Instagram and invest in providing online information and services for your patients' needs.
Your patients are loyal to you because they trust you, but just like any other relationship, patient relationships require a consistent investment of time and effort. Making your patients feel like family, rather than someone who's paying you to give some services for them, bridges the gap. That being said, this is why patients, especially millennials, utilize Urgent Care Centers.
Source-Ray
REIMAGINING
X-RAY
Your Trusted Partner in the Design & Manufacture of X-ray Generators and Medical Systems
Get in touch with our X-ray experts
We're here to help you with all your X-ray needs