Top 3 Trends in Radiology for 2020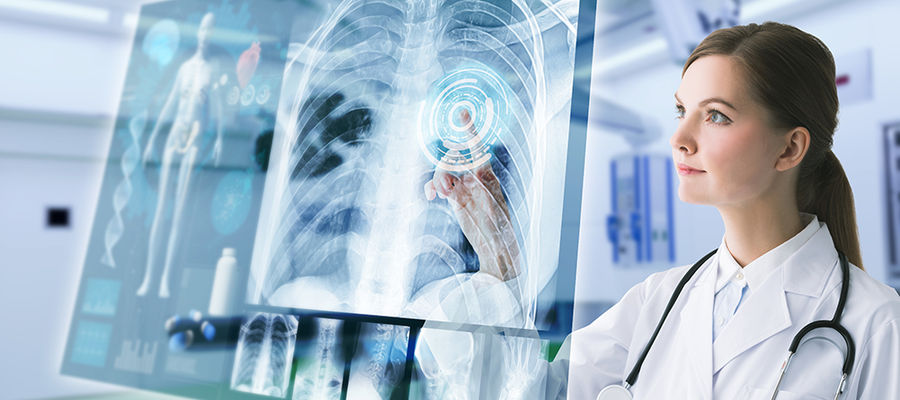 As we move further into 2020, it is important to stay abreast of the latest trends in radiology. Three of the top trends to watch include the use of AI, data sharing for care coordination, and improving patient experience, such as with portable x-ray machines.
---

In 2020, radiology innovations will center around 3 main concepts: the use of AI, Data Sharing for Care Coordination, and Improving Patient Experience, which includes using portable x-ray machines to reduce the amount of times the patient has to be moved.
With 2020 fully underway, it's time to look at the trends in radiology which will impact the industry this year. What innovations will 2020 bring to the imaging community to shape the future?
Read more about the trends to watch in radiology this year.
1. Use of AI
Across the board, when we talk about artificial intelligence (AI), we worry about people losing jobs and we are faced with complex issues related to privacy, ethics and nuances that only humans can solve for. The radiology field is no different. However there is great opportunity for AI technology to help radiologists read more images with greater accuracy while improving speed.

The question is not whether AI technology is coming to radiology but how. In 2020, the focus will be on AI integration into radiology workflow, i.e. how can radiology help us do our jobs better without slowing us down? AI companies highlight in their pitches how their apps and technology integrate seamlessly with the radiology workflow. Currently physicians need to provide feedback to the AI to confirm whether it's correct or not. Improvements will continue to be made as the physician feedback trains the algorithms to independently make accurate real time decisions, but currently the training of the AI will add time on the user end.
Some of the goals of AI-enhanced image acquisition are to shorten exam times and decrease the number of retakes while also possibly improving the image quality to make difficult-to-identify features easier to spot. With a few FDA approved technologies and still more pending, this can be an area of significant change in 2020 if practices are willing to adopt it.
Overall, AI is an exciting area for radiology as new technologies have been shown to accurately identify lung nodules and breast tumors much faster than the human eye. AI can also rapidly analyze vast amounts of data, which could improve treatment planning for patients. 2020 will show us whether AI companies can get users (physicians, technicians, etc.) to invest their time in improving AI.
2. Data Sharing for Care Coordination
The second trend to watch is Data Sharing for Care Coordination.Throughout the medical community, shared data access for integrated care is a driving force. Certainly radiology images are essential data for making decisions about patients. More and more, radiology practices need to be able to distribute data across multiple sites.

But sharing data is harder than it seems. Most medical practices have large amounts of raw data which would need to be standardized, organized, sometimes de-identified, and shared using highly sophisticated IT services. The thought of releasing data outside of its server through an external IT company is cause for serious concern for most providers. The use of specially created cloud services may provide some solutions in 2020. Clearly providers must eliminate the use of CDs which can cause delays which impact health outcomes.

Ultimately a care coordinator will be needed to combine radiologic, pathologic, and genomic data to inform patient care, although currently there are no rules, processes or structures for combining the data and it is unclear whose role it should be. The growing sentiment is that integrated diagnostics will change the radiology industry and create new responsibility for radiologists. Returning to our first trend, it is possible that AI will have a substantial role in data aggregation.
In addition to sharing data with other healthcare providers and systems, providers need to think about sharing files with patients. The culture of our society in 2020 has patients expecting immediate digital access to their data. Data sharing of medical images through patient portals will grow more common.
3. Improving Patient Experience
Lastly, watch for innovations in Patient Experience. While we want to have state of the art machinery and data sharing, we cannot lose sight of the patients. 2020 will see more widespread use of innovative strategies to keep patients comfortable and safe.
A prime example of a growingly popular trend is using portable x-ray machines to reduce the amount of patient movement. By moving equipment around the person, the mobile imaging procedures conform to patients. Tableside controls and access to prior imaging are in-room features on some systems that are designed to shorten the time of the exam. Another example is developments to create more comfortable mammograms.
As you can see, new trends in AI, data sharing and patient experience have the potential to change the landscape of radiology in 2020.
Source-Ray
REIMAGINING
X-RAY
Your Trusted Partner in the Design & Manufacture of X-ray Generators and Medical Systems
Get in touch with our X-ray experts
We're here to help you with all your X-ray needs