Advantages of Portable X-ray Devices for Nursing Homes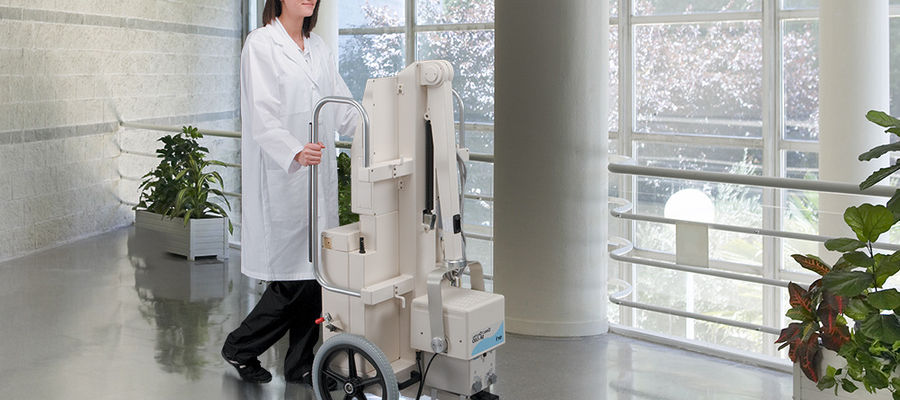 Digital and portable X-ray systems have revolutionized the medical imaging field, providing improved image quality, less processing speed, and significantly low radiation dosage. Let's explore the advantages of using portable X-ray devices in nursing homes, such as increased patient comfort, reduced wait time, and cost-efficiency.
---
One of the most remarkable technologies that have been introduced in the medical imaging field that has helped medical professionals diagnose patients and treat them with better precision and increased accuracy is the digital and portable X-ray system.
With the rapid growth of the healthcare services in the US, digital X-ray systems have become more popular, as they provide improved image quality, less processing speed, and significantly low radiation dosage. The results offered by a portable X-ray machine is then sent directly to the patient's physician and is typically done within an hour.
Advantages of Using Portable X-ray in Nursing Homes
Security and comfort

Acceptance from the patients

Reduced wait-time

Eliminate hospital trips

Reduced staff pull-out to accompany nursing home residents to hospitals

Cost-efficient
A portable X-ray benefits patients, especially those in critical health conditions, by avoiding difficult and potentially hazardous visits to hospitals or imaging centers for check-ups. On-site diagnostic imaging equipment aided nursing homes and assisted living facilities that are primarily populated with the elderly and people with disabilities, in helping prevent the risk of further injury and inconvenience to the patients. Nursing home residents or patients, especially those with memory-related disorders such as dementia, need familiar surroundings to feel safe.
A transport to the hospital for a radiological examination can be an emotionally and physically stressful experience, which can lead to increased anxiety, disorientation and other problems related to the new environment.
Nonetheless, latest advancements in the digital system of medical imaging can help ease the patients' anxiety by allowing for evaluation in the nursing facility itself. Moreover, mobile imaging helps reduce transfers to and from the hospital, eliminate waiting times, increase the number of examinations catered and further timely diagnosis and access to treatments – using resources more efficiently and substantially reducing overall costs.
Studies have shown that portable X-ray devices in nursing homes help eliminate hospital trips for chest, skeletal and abdominal X-ray examinations, reduce hospitalizations or visits to the emergency room, as well as reduce overall healthcare cost.
One study used lightweight X-ray equipment with a digital flat-panel detector to conduct mobile radiography on nursing home patients in their own rooms and a questionnaire with closed and open-ended questions was used to collect data on patient and staff experiences from the service.
The most valuable results were that the patients avoided unnecessary transport back and forth to the hospital and that the majority of the patients could be treated locally, with the reduction of medical complications after hospital treatment.
Compared to the X-ray department or imaging center, the nursing home care environment is more suitable for the patients, contributing to a more person-centered care process.
This would require the nursing home facility to have technologists on-site who are equipped with the proper amount of training and qualifications for obtaining images with mobile X-ray systems, and that the facility should also acquire knowledge in preparing for and carrying out X-ray procedures, as well as increased knowledge in treatments that are usually given to patients in hospitals.
Additionally, mobile X-ray services also show potential socio-economic advantages. Portable X-ray systems help reduce the use of ambulance and taxi transportation, with staff accompanying the residents to and from the hospital – proving that portable X-ray services are cost-effective. This is backed by a cost-effectiveness analysis report conducted in Norway.
The cost reduction was roughly 30-60% per X-ray examination, which was parallel to the number of tests per nursing home visit and the distance between the nursing home and the hospital. However, the costs of the service and the savings aren't within the same budget, challenging decision-makers in seeing increased costs in their department, as part of an overall cost reduction for the society.
Furthermore, mobile X-ray services also provide additional comfort, since it is available 24/7 and even during the holidays. Thus, no after-hours facility is required for medical imaging services.
Influence on Patients and Physicians
With the use of mobile imaging technology, real-time results and feedbacks can be acquired and transferred instantly. Technologists will no longer need to spend a lot of time in developing images in the darkroom, since each procedure can be done digitally in minutes and the results are then transferred to radiologists immediately, with their feedbacks given by the hour.
The reduced time spent on each patient may result in better patient care management, faster treatment strategies and more patients can be examined.
As the popularity of using mobile imaging services rises, come further enhancements in image quality and ease of equipment transport, as well as the ability to utilize diagnostic radiology and receive fast results. In return, more and more nursing homes and assisted living facilities adopt this technology.
In hindsight, consumers are also helping drive the move to more advanced forms of medical imaging. Shifting from traditional to mobile technology throughout the healthcare industry opens opportunities for healthcare professionals to expand their abilities towards giving their patients a better quality of healthcare services at lower costs.
Challenges in Regulations
Stringent regulations of the FDA's Center for Devices and Radiological Health (CRDH) towards manufacturing, repackaging, relabeling, and importation of medical devices, as well as regulating radiation-emitting electronic products (medical and non-medical) such as X-ray systems, ultrasound equipment and many others may pose a challenge to the nursing homes and put a financial burden on the X-ray equipment manufacturer.
One of the top X-ray equipment manufacturers, SRI is the imaging choice for nursing homes.
The Source-Ray product line includes state of the art, lightweight portable and mobile X-Ray Machines that are designed to be moved about easily and safely. Our compact design enables these portables to be used for a wide range of procedures and facilities.
Source-Ray
REIMAGINING
X-RAY
Your Trusted Partner in the Design & Manufacture of X-ray Generators and Medical Systems
Get in touch with our X-ray experts
We're here to help you with all your X-ray needs